GARMIN 722XS - 922XS - 1222XSV MULTI-TOUCH COMBO
NEW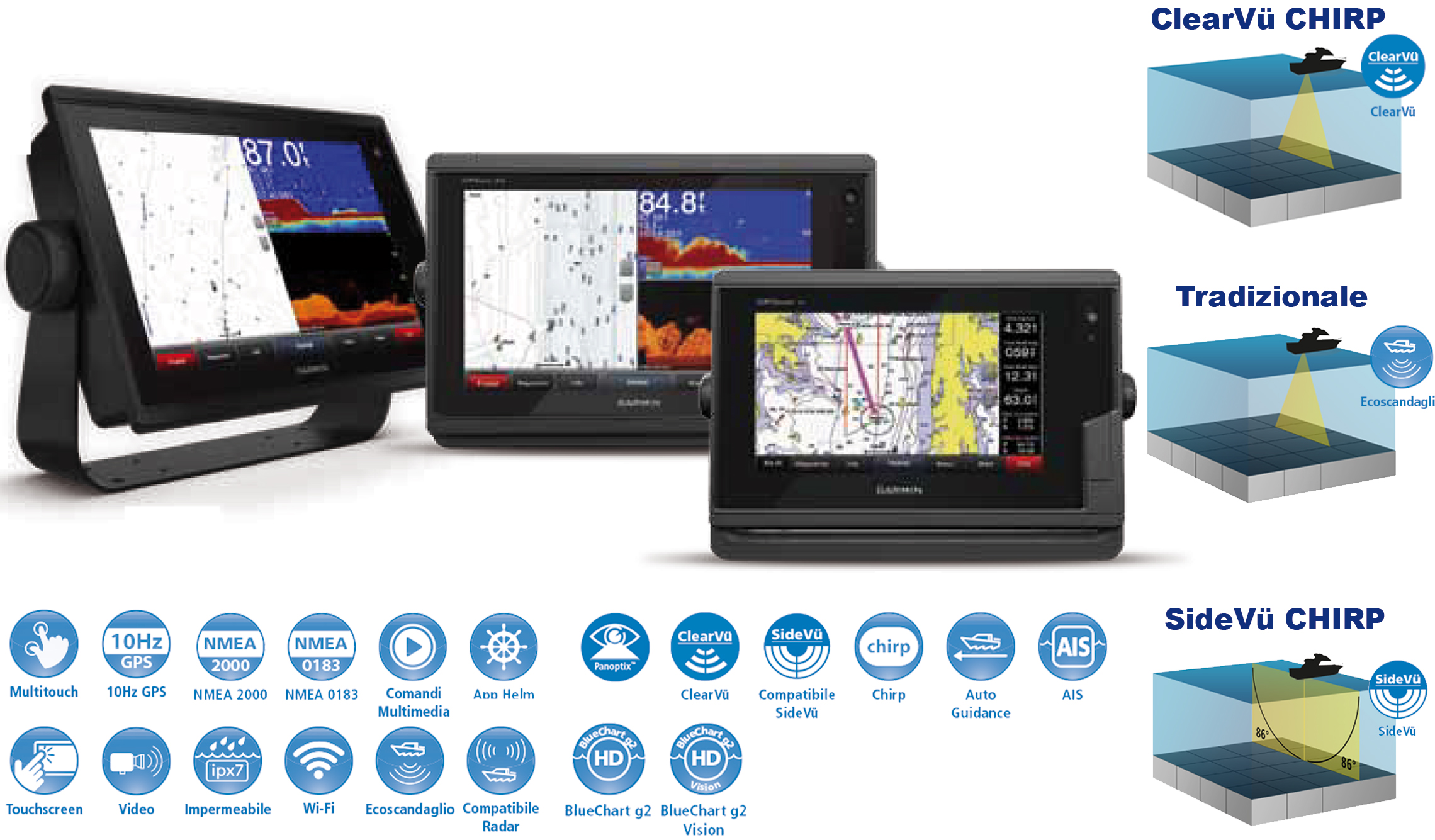 GPSMAP cartographic Fishfinder/Chartplotter with Multi-Touch color display, high sensitivity internal antenna, world basemap, wireless connection through Wi-Fi or Bluetooth with the possibility to transfer routes with BlueChart Mobile (optional) in wireless mode for iPhone and iPad, Virb action-cams, and use Garmin Apps. NMEA 2000 and NMEA 0183 interfaces, sonar recording function. External black-box needed for the SideVü vision (optional).
Supplied with CHIRP ClearVü (435-475, 800-840 kHz) ALL-IN-ONE GT20-TM depth/temp. transom mount transducer (77/200 kHz), micro SD card double slot, mounting bracket, power and data cable, protective cover, Italian and multilingual software, user's manual.
Gps/GLONASS 10 Hz integrated receiver.
Supports Garmin Marine Network, Radar Garmin, Panoptix™, autopilot, videocameras, AIS, DSC, GSD, GCV, Quatix and compatible Fusion audio systems.
Depth up to:
228 m approx* (ClearVü 435/475 kHz).
579 m approx* (with transducer 77/200 kHz).
*Maximum depth reachable depends on sea bottom, on water physical-chemical properties and other factors.
Optional Garmin BlueChart G2 HD or G2 Vision HD MicroSD/SD cartography.
| Code | Description |
| --- | --- |
| | GARMIN GPSMAP 722xs Fishfinder/Chartplotter (7" WVGA 800x480 pixel screen) with integrated CHIRP module and ClearVü CHIRP (435-475, 800-840 kHz) ALL-IN-ONE GT20-TM depth/temp. transom mount transd. (77/200 kHz) |
| | GARMIN GPSMAP 722xs Fishfinder/Chartplotter (7" WVGA 800x480 pixel screen) with integrated CHIRP module and ALL-IN-ONE GT20-TM depth/temp. transom mount transd. and G2 VISION HD Regular West Coast (VEU012R) cartography |
| | GARMIN GPSMAP 722xs Fishfinder/Chartplotter (7" WVGA 800x480 pixel screen) with integrated CHIRP module and ALL-IN-ONE GT20-TM depth/temp. transom mount transd. and G2 VISION HD Regular Adriatic Sea (VEU014R) cartography |
| | GARMIN GPSMAP 722xs Fishfinder/Chartplotter (7" WXGA 800x480 pixel screen) with integrated CHIRP module display only |
| | GARMIN GPSMAP 922xs Fishfinder/Chartplotter (9" WVGA 800x480 pixel screen) with integrated CHIRP module and ClearVü CHIRP (435-475, 800-840 kHz) ALL-IN-ONE GT20-TM depth/temp. transom mount transd. (77/200 kHz) |
| | GARMIN GPSMAP 922xs Fishfinder/Chartplotter (9" WVGA 800x480 pixel screen) with integrated CHIRP module and ALL-IN-ONE GT20-TM depth/temp. transom mount transd. and G2 VISION HD Regular West Coast (VEU012R) cartography |
| | GARMIN GPSMAP 922xs Fishfinder/Chartplotter (9" WVGA 800x480 pixel screen) with integrated CHIRP module and ALL-IN-ONE GT20-TM depth/temp. transom mount transd. and G2 VISION HD Regular Adriatic Sea (VEU014R) cartography |
| | GARMIN GPSMAP 922xs Fishfinder/Chartplotter (9" WXGA 800x480 pixel screen) with integrated CHIRP module display only |
| | GARMIN GPSMAP 1222xsv Fishfinder/Chartplotter (12" WXGA 1280X800 pixel screen) with integrated CHIRP module display only |
| | Spare parts |
| --- | --- |
| | Power cable for GPSMAP 722 - 722xs - 922 - 922xs |
| | Power cable for GPSMAP 1222 Touch - 1222xs Touch |
| | Mounting bracket for GPSMAP 722 - 722xs |
| | Mounting bracket for GPSMAP 922 - 922xs |
| | Mounting bracket for GPSMAP 1222 Touch - 1222 xsv Touch |
| | Protective cover for GPSMAP 722 - 722xs |
| | Protective cover for GPSMAP 922 - 922xs |
| | Protective cover for GPSMAP 1222 Touch - 1222xsv Touch |