NOXIDEL
NEW
water disinfectant
water sterilizers
chemical products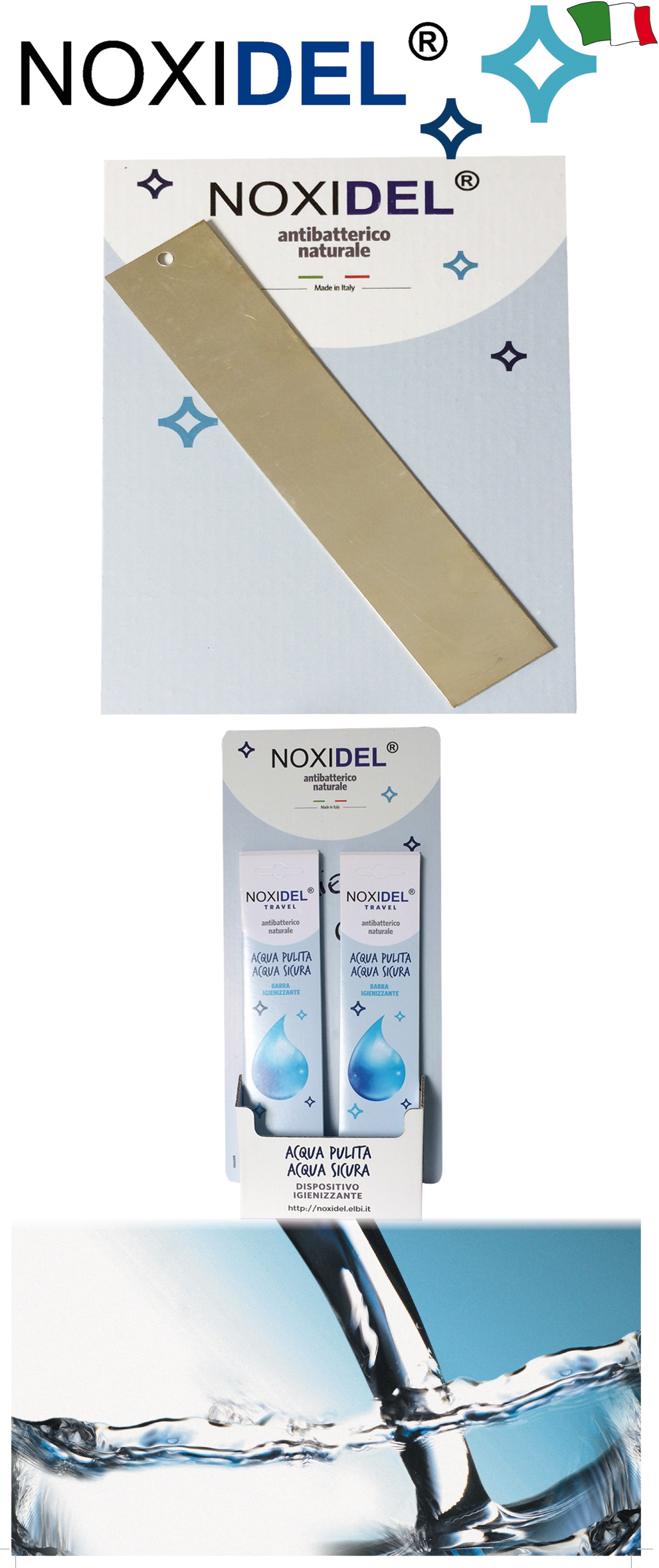 ANTIBACTERIAL, ANTI-ALGAE AND ANTI-LIMESCALE FOR WATER
Noxidel is an innovative product, simple and patented with a natural antimicrobial activity preserving all the organoleptic and nutritional properties of water without releasing harmful substances in the water.
Noxidel can be installed anywhere where there is water to sanitise.
For example
• Tanks or containers for water of nautic use.
• Tanks for caravans/campers, recreational vehicles.
• Containers for water storage;
• Swimming pools;
• Water tanks for other uses;
ANTIBACTERIAL EFFECT
Thanks to its special composition, Noxidel has an efficient antibacterial action which preserves all the organoleptic properties of water that are essential for both humans and livestock. Noxidel eliminates the main bacteria that cause gastrointestinal disorders, moreover it does an efficient antibacterial action against moist, fungus and yeasts.
ANTISCALE AND ANTI-ALGAE EFFECT
Noxidel is an efficient anti-algae: it avoids the regrowth and the proliferation of these substances. Moreover it creates an anti-limescale effect preserving pipes, mechanisms and the container where it has been submerged.
READY TO USE
Noxidel requires no additives or chemicals, does not release residual substances and requires no energy power nor maintenance.
Just dip it in suspension into the water stored in a container free from ferrous materials upon tank's cleaning with a anti-scale product (our item 430955 DEPUR TANK). The contact with water immediately activates Noxidel electrolytic effects and starts the purifying action shooting down the bacterial load and inhibits regrowth.
The antibacterial action of a Noxidel bar is guaranteed for tanks up to 120 lt. capacity, for bigger dimensions just other further bars.
At the end of its life (the antibacterial function lasts 4 months) just remove Noxidel and replace with a new one.
EFFECTIVE AT ANY TEMPERATURE
At low temperatures Noxidel maintains over time its bacteriostatic capacity; high temperatures accelerate its bactericidal activity; the antibacterial action of Noxidel is guaranteed up to temperatures of 50 ° C.
IT IS GUARANTEED
Noxidel has been tested in the laboratories of Molecular Medicine Department
of the University in Padua.
CERTIFICATES OF CONFORMITY APPROVED
Certification of food compliance D.M. 604/2004 174
Compliance Certification Decree n.31 02/02/2001
Official Gazette 52 of 03.03.2001
Regulation on food contact 1935/2004 / EC.
Request for item's availability