Home

/

RAYMARINE AXIOM™ TOUCH COMBO FISHFINDER/CHARTPLOTTER
RAYMARINE AXIOM™ TOUCH COMBO FISHFINDER/CHARTPLOTTER
NEW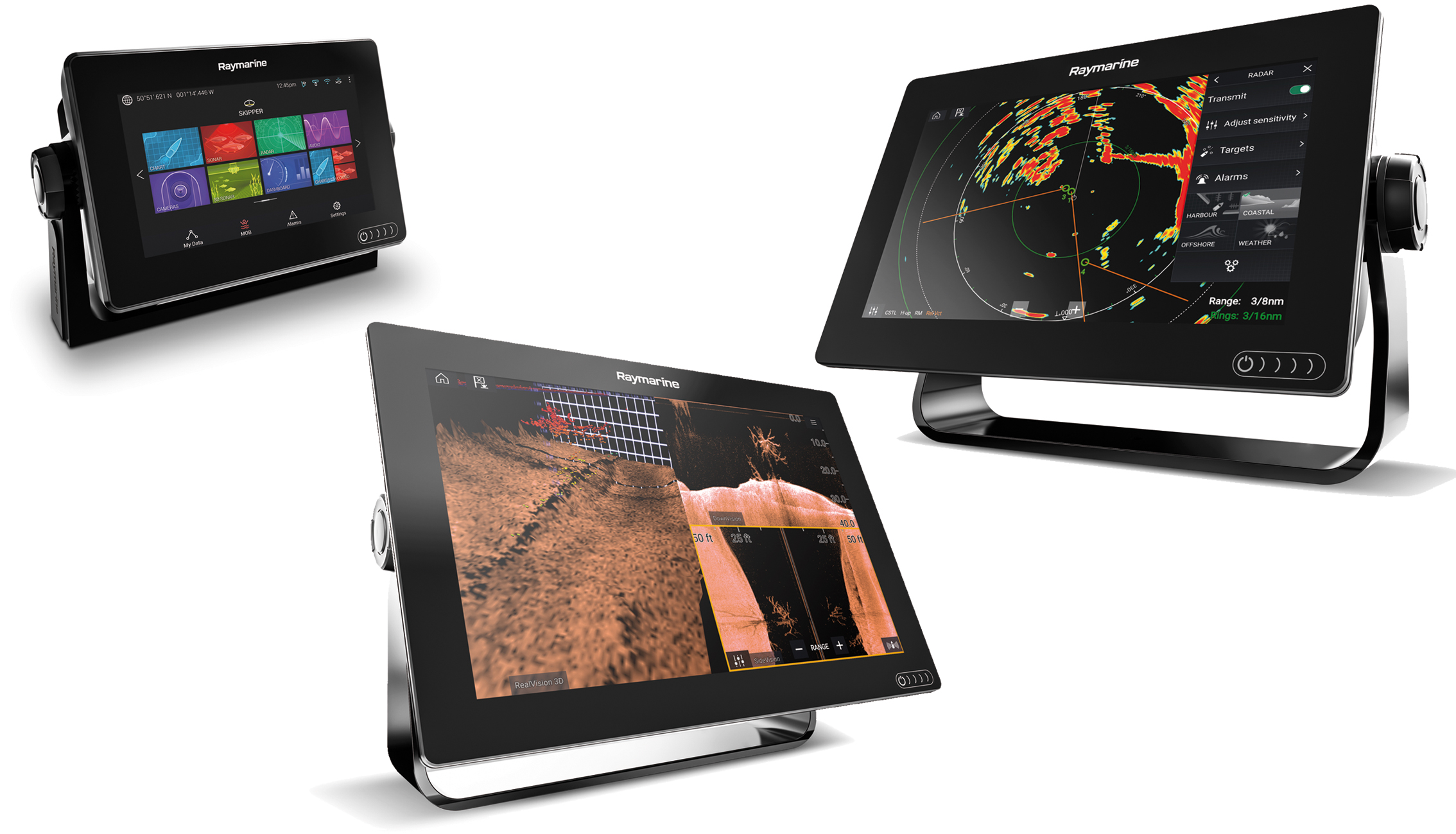 Cartographic multifunction touchscreen "AXIOM™" Fishfinder/Chartplotter with LCD display with optical bonding and superbright LED technology direct sunlight visible. With LightHouse3 operating system and blazing fast quad core performance, Axiom offers an intuitive navigation and easy to customize. Complete with internal 10 Hz 72 channels gps antenna, NMEA 2000 interface through DeviceNet port, USB inlet compatible with SeaTalk through adaptor (optional), mounting bracket, power/data cable, protective cover, italian and multillingual user's interface, owner's manual.
Wireless connectivity : through Wi-Fi video streaming and control for the most recent iOS, Android and Kindle devices.
Supports all Raymarine products: digital radar and Quantum, autopilot, CP470 and CP570 CHIRP sonar modules, audio server, video and Flir thermal cameras.
Optional Navionics+ – Platinum+ and C-MAP 4D - Max-N+ Micro SD cartography.
| Code | Description |
| --- | --- |
| | RAYMARINE AXIOM 7 touchscreen colour Fishfinder/Chartplotter (7" WVGA display - 800x480 pixel) with CPT-100DVS DownVision transducer |
| | RAYMARINE AXIOM 7 touchscreen colour Fishfinder/Chartplotter (7" WVGA display - 800x480 pixel) with CPT-100DVS DownVision transducer and Navionics+ Small Download cartography |
| | RAYMARINE AXIOM 7 touchscreen colour Fishfinder/Chartplotter (7" WVGA display - 800x480 pixel) with RV-100 RealVision 3D transducer |
| | RAYMARINE AXIOM 7 color touchscreen (WVGA 7" screen - 800x480 pixel) with RV-100 RealVision 3D DownVision transducer and Navionics+ Small Download cartography |
| | RAYMARINE AXIOM 9 touchscreen colour Fishfinder/Chartplotter (9" WVGA display- 800x480 pixel) with CPT-100DVS DownVision transducer |
| | RAYMARINE AXIOM 9 touchscreen colour Fishfinder/Chartplotter (9" WVGA display - 800x480 pixel) with CPT-100DVS DownVision transducer and Navionics+ Small Download cartography |
| | RAYMARINE AXIOM 9 touchscreen colour Fishfinder (9" WVGA display - 800x480 pixel) with RV-100 RealVision 3D transducer |
| | RAYMARINE AXIOM 12 touchscreen colour Fishfinder/Chartplotter (12" WXGA display - 1280x800 pixel) - display only |
| | Spare parts |
| --- | --- |
| | Power cable for AXIOM series |
| | Mounting bracket for AXIOM 7 |
| | Mounting bracket for AXIOM 9 |
| | Mounting bracket for AXIOM 12 |
| | Protective cover for AXIOM 7 |
| | Protective cover for AXIOM 9 |
| | Protective cover for AXIOM 12 |
| | CHIRP transom mount transducer with depth/temp. CPT100DVS (supplied as standard on GN625105/108 - GN625105/NSD - GN625108/NSD) |
| | CHIRP transom mount transducer with depth/temp. RV-100 RealVision 3D (supplied as standard on GN625105/3D - GN625108/3D) |