SBC NRG+FR BATTERY CHARGER
NEW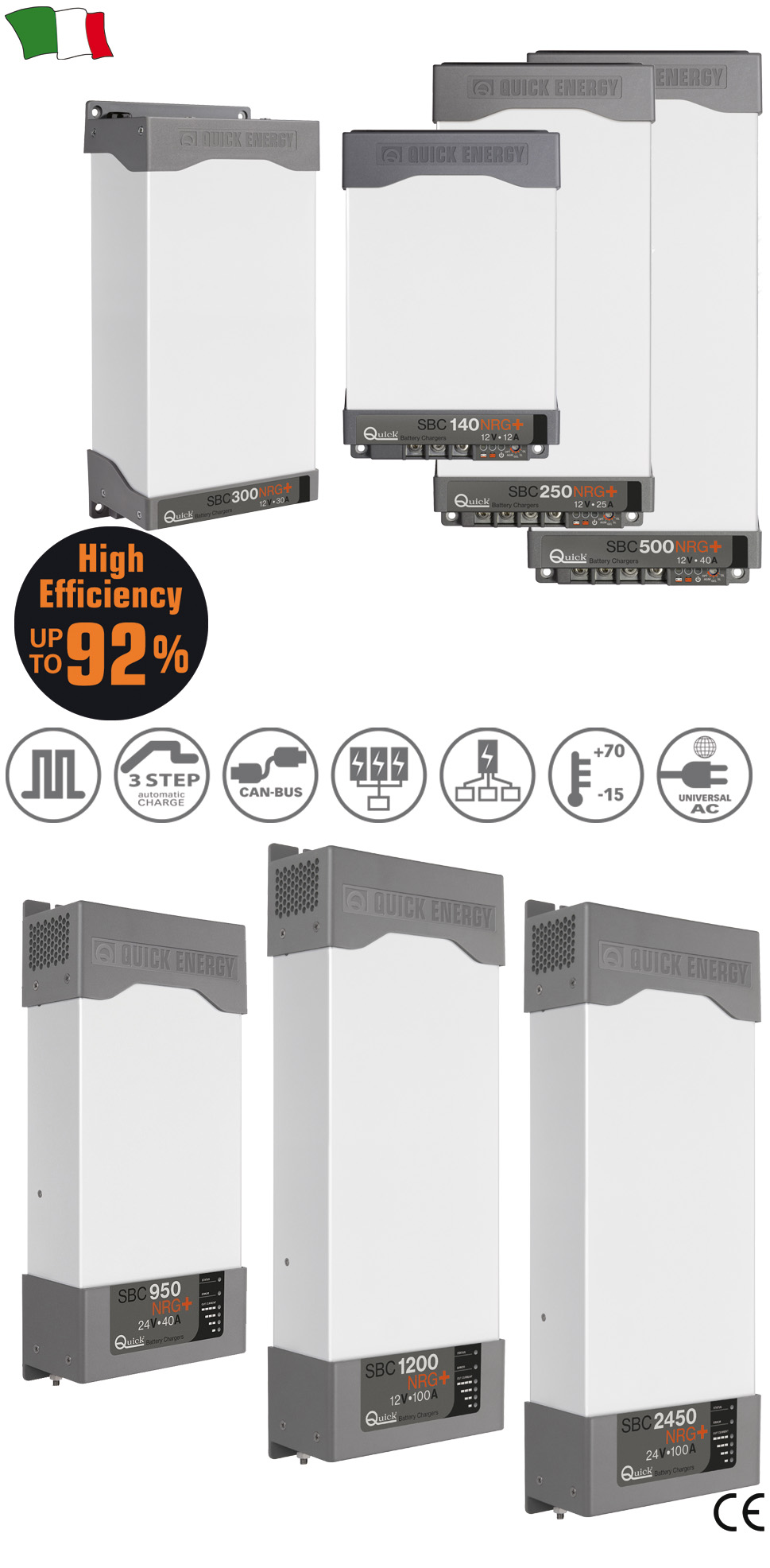 HIGH EFFICIENCY MORE THAN 92%
SBC NRG+FR battery charger, with higher efficiency in comparison with the market standards, innovative design, well-advanced technology which means reduced consumption, less heat generation and limited acoustic noise.
The high performances of SBC NRG+FR allow a fast and safe battery charging. Other important advantages that the SBC NRG battery chargers offer are:
• Three stages IUoU battery charging.
• Multiple outputs in order to charge more groups of batteries (electronic mosfet charge separator inside).
• Differentiated charging for open or sealed liquid electrolite, GEL or AGM batteries.
• The possibility of using the battery charger as a power supply without batteries.
• Integrated output fuses inside the battery charger. • Capacity of supplying full power with low AC network supply voltage (Full Range Mini and Medium). • Low residual fluctuation on output. • Universal AC supply input (mod. 1450/1950/2450 SBC NRG+FR HR excluded). • Compatible with any generator. • Can operate in a wide range of ambient temperatures. • Variable speed of the cooling fan. • User's CAN BUS interface for data transfer (except mod.SBC 140/250/300/500 NGR+ FR). • Reduced power mode automatic and manual. • CAN BUS interface for data transfer. • Possibility to connect up to three battery chargers of the same model in parallel, by means of digital control, for current sharing (only for mod. SBC 1100/1200/1450/1950/2450 NRG+ HR). • Protection against overheating of the batteries (with optional sensors). • Short circuit, overloading, output overvoltage and overheating protection.
Model

Volts

Max current output

Amp

No.

outputs

Max power consumption

(230 Vac)

Amp

Supply voltage

Vac

Frequency

Hz

Dimensions

mm

Weight

kg

SBC 140 NRG+ FR

12

12

2

0,9

83 ÷ 264

45 ÷ 66

187 x 114 x 71

1,1

SBC 250 NRG+ FR

12

25

3

1,8

83 ÷ 264

45 ÷ 66

252 x 114 x 71

1,6

SBC 300 NRG+ FR

12

30

3

2,2

83 ÷ 264

45 ÷ 66

252 x 114 x 71

1,6

SBC 500 NRG+ FR

12

40

3

2,8

83 ÷ 264

45 ÷ 66

276 x 114 x 71

1,8
Model

Volts

Max current output

Amp

No.

outputs

Max power consumption

(230 Vac)

Amp

Supply voltage

Vac

Frequency

Hz

Dimensions

mm

Weight

kg

SBC 1100 NRG+ FR

12

80

3

5,4

83 ÷ 264

45 ÷ 66

481 x 170 x 82

4,2

SBC 1200 NRG+ FR

12

100

3

6,5

83 ÷ 264

45 ÷ 66

481 x 170 x 82

4,2

SBC 1450 NRG+ HR

24

60

3

7,5

161 ÷ 264

45 ÷ 66

481 x 170 x 82

4,2

SBC 1950 NRG+ HR

24

80

3

10,1

161 ÷ 264

45 ÷ 66

481 x 170 x 82

4,2

SBC 2450 NRG+ HR

24

100

3

12,5

161 ÷ 264

45 ÷ 66

481 x 170 x 82

4,2