Home

/

GARMIN STRIKER VIVID 7SV - 9SV FISHFINDER
GARMIN STRIKER VIVID 7SV - 9SV FISHFINDER
NEW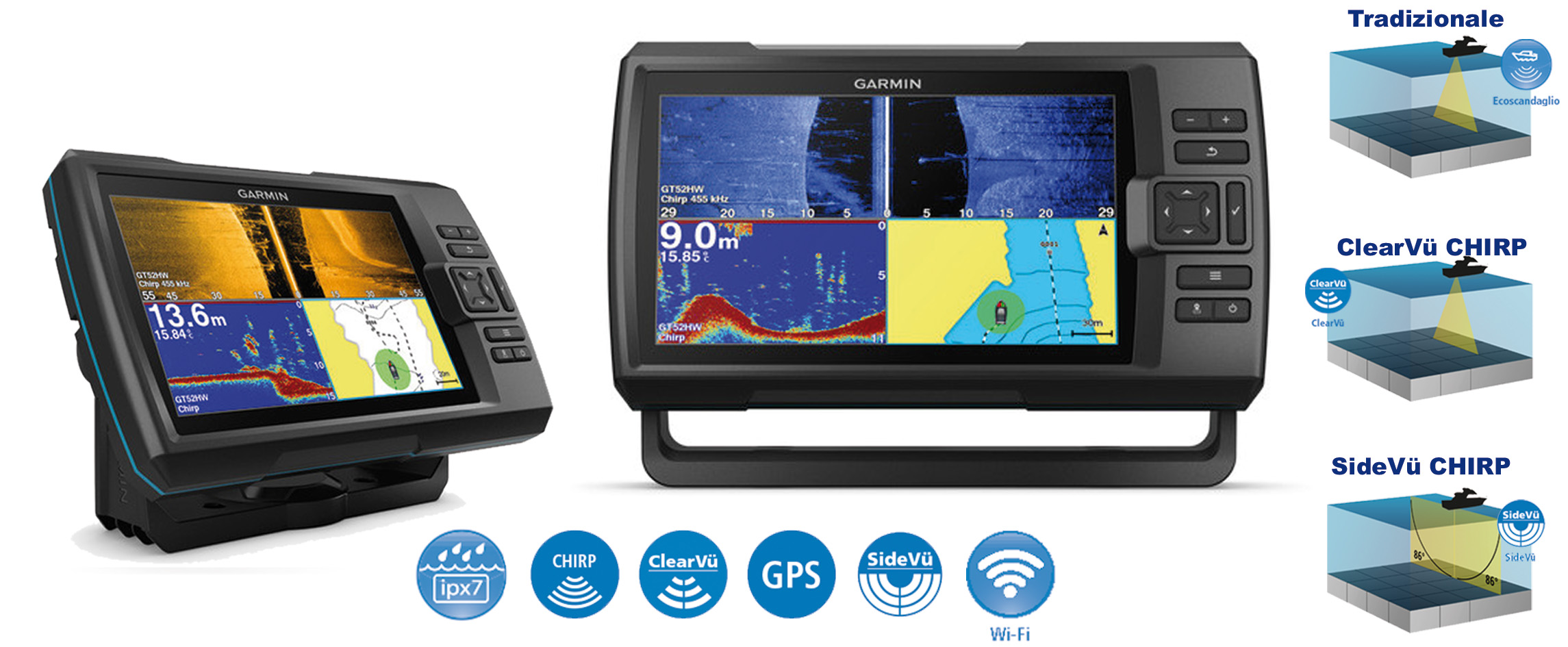 STRIKER VIVID SV Fishfinder (WVGA colour 800x400 pixel display) equipped with traditional technology and CHIRP to analize the seabed, show the presence of fish below the boat in real time and mark the spots where the fish are biting so you can easily return there. SideVü technology shows what is happening to the sides of your boat, an excellent way of finding structure and fish. Equipped with integrated 5 Hz GPS that shows informations regarding boat's speed and the leeway when fishing. Moreover, thanks to its Quickdraw Contours, it allows to track and memorize in total autonomy and in real time up to 1000 km² of HD bathymetrics every 30 cm; these new datas are readily available and can be shared for free with friends and fellow fishermen. It is also equipped with Wi-Fi® to use the ActiveCaptain™ free app, which lets you connect your gps to the mobile network and access a new world of content, putting to full use your Garmin Marine instrumentation installed on board. Supplied with CHIRP (150-240 kHz) ClearVü and SideVü (455/800 kHz) transom mount transducer which provides higher level details even at boat's sides, mounting bracket, power cable, Italian and multilingual software.
STRIKER VIVID 7SV Depth up to:
150 m approximately* (ClearVü/SideVü)
240 m approximately* (with 77/200 kHz transducer)
STRIKER VIVID 9SV Depth up to:
230 m approximately* (ClearVü)
150 m approximately* (SideVü)
530 m approximately* (with 77/200 kHz transducer)
* Maximum depth reachable depends on type of seabed, water physical-chemical properties and other factors.
Not cartographic.
| Code | Description |
| --- | --- |
| | GARMIN STRIKER VIVID 7sv Fishfinder (7" display) with transom mount transducer depth/temp. GT52HW-TM ClearVü/SideVü (150/240 - 455/800 kHz) |
| | GARMIN STRIKER VIVID 7sv Fishfinder (7" display) without transducer |
| | GARMIN STRIKER VIVID 9sv Fishfinder (9" display) with transom mount transducer depth/temp. GT52HW-TM ClearVü/SideVü (150/240 - 455/800 kHz) |
| | GARMIN STRIKER VIVID 9sv Fishfinder (9" display) without transducer |
| | Spare parts |
| --- | --- |
| | Power cable for STRIKER,STRIKER PLUS and STIKER VIVID Series |
| | Mounting bracket for STRIKER PLUS/STRIKER VIVID 5CV - 7CV - 7SV |
| | Mounting bracket for STRIKER PLUS/STRIKER VIVID 9SV |
| | Protective cover for STRIKER PLUS/STRIKER VIVID 7CV - 7SV |
| | Protective cover for STRIKER PLUS/STRIKER VIVID 9SV |
| | ClearVü SideVü GT52HW-TM transom mount transducer Echomap SV (supplied as standard) |
Request for item's availability