GARMIN ECHOMAP UHD2 SV CHARTPLOTTERS/FISHFINDERS
NEW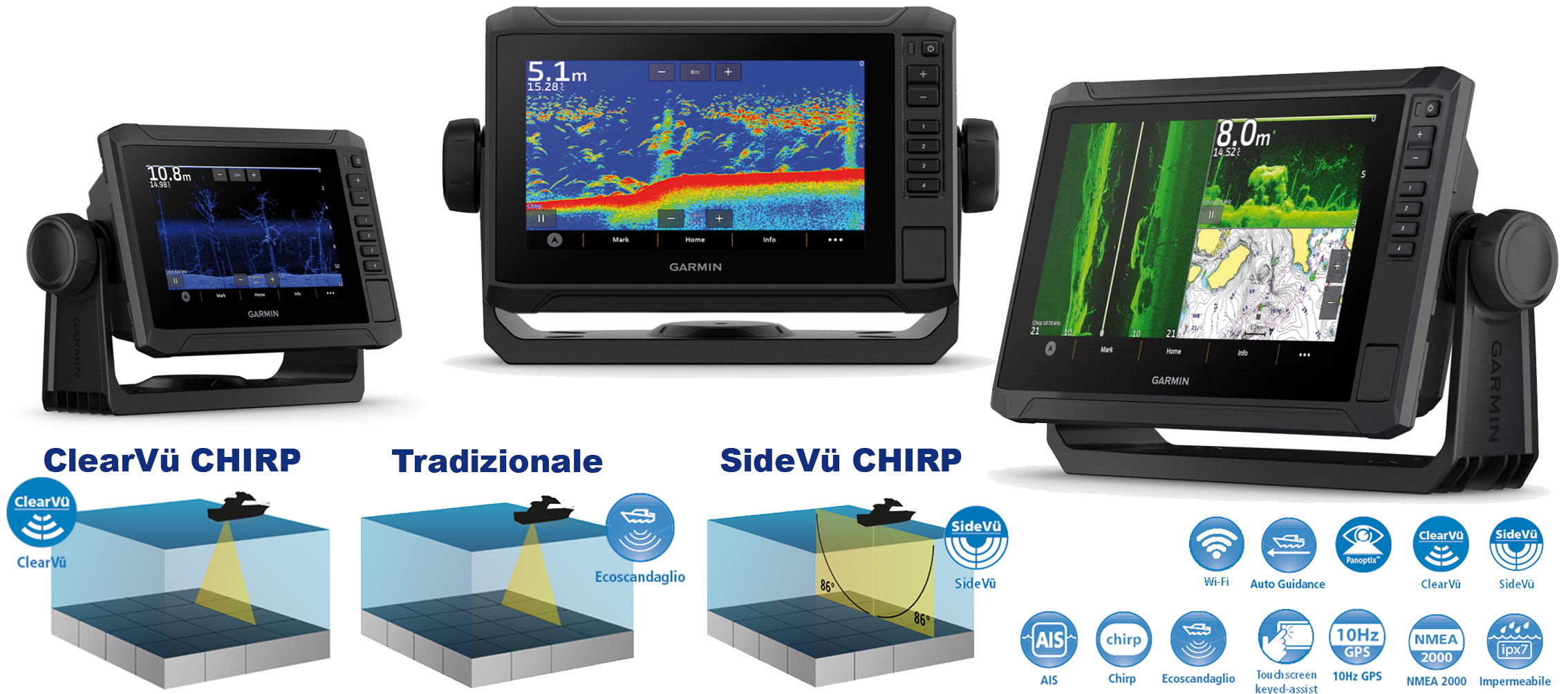 ECHOMAP UHD2 SV touchscreen cartographic 6", 7" 9" color Fishfinder/chartplotter, has a new design with an enhanced graphic interface, a Gps/GLONASS 10 Hz integrated and high sensivitity antenna, tide tables and NMEA 2000 ® that allows to connect autopilots, inboard and outoboard engines, EmpirBus and Fusion system to let you see everything on one single display. Equipped with traditional and CHIRP technology which allows to analyze the seabed, shows the presence of fish below the boat in real time and marks the spots where the fish are biting so you can easily go back. High-Definition ClearVü technology provides brilliant image clarity of structure and fish beneath your boat.
Includes an integrated Wi-Fi ® connection that enables wireless sharing of your sounder, waypoints, and routes with another ECHOMAP UHD 2. The Quickdraw Contours function makes it possible to trace and memorize up to 1000 km2 of HD bathymetrics in real time and complete autonomy, with intervals of 30 cm.; this new data is easily accessible and can be shared for free with friends and fishing partners.
Wi-Fi® technology allows to use the free ActiveCaptain™ app which lets you connect your gps to the mobile network and access a new world of contents, putting to full use your Garmin Marine instrumentation installed on board.
Equipped with transom mount GT54UHD-TM transducer on the SYGMAP62SV and SYGMAP72SV models and transom mount GT56UHD-TM transducer on the SYGMAP92SV model, micro SD card slot, tilt/swivel mount with quick release cradle, power and data cable, protective cover, italian and multilingual user's interface.
Compatible with AIS, DSC, Fusion systems, ActiveCaptain™, Force ® trolling motor and Panoptix LiveScope ™.
GT54UHD-TM Transducer Depth up to:
60 m approx* (ClearVü UHD).
243 m approx* (with traditional CHIRP transducer).
GT56UHD-TM TransducerDepth up to:
60 m approx* (ClearVü UHD).
38 m approx* for each side; 76 m totals, at the max depth of 9 m (SideVü UHD very high resolution).
150 m approx* for each side (SideVü).
243 m approx* (with traditional CHIRP transducer).
*Maximum reachable depth depends on sea bottom, on water physical-chemical properties and other factors.
Optional Garmin Navionics+ or Garmin Navionics Vision+ MicroSD/SD cartography.
| Code | Description |
| --- | --- |
| | GARMIN ECHOMAP UHD2 62sv Fishfinder/Chartplotter (6" WVGA 800x480 pixel display) with ALL-IN-ONE GT54UHD-TM transom mount transducer with depth/temp. (CHIRP 150/240 Khz) ClearVü (455/800 kHz) and SideVü (1200 kHz) |
| | GARMIN ECHOMAP UHD2 62sv Fishfinder/Chartplotter (6" WVGA 800x480 pixel screen) display only |
| | GARMIN ECHOMAP UHD2 72sv Fishfinder/Chartplotter (7" WVGA 800x480 pixel display) with ALL-IN-ONE GT54UHD-TM transom mount transducer with depth/temp. (CHIRP 150/240 Khz) ClearVü (455/800 kHz) and SideVü (1200 kHz) |
| | GARMIN ECHOMAP UHD2 72sv Fishfinder/Chartplotter (7" WVGA 800x480 pixel screen) display only |
| | GARMIN ECHOMAP UHD2 92sv Fishfinder/Chartplotter (9" WSVGA 1024x600 pixel display) with transom mount ALL-IN-ONE GT56UHD-TM transducer with depth/temp. (455/800/1000 Khz) |
| | GARMIN ECHOMAP UHD2 92sv Fishfinder/Chartplotter (9" WSVGA 1024x600 pixel screen) display only |
| | Spare parts |
| --- | --- |
| | Power/data cable for ECHOMAP UHD2 sv |
| | Mounting bracket for ECHOMAP UHD2 62sv |
| | Mounting bracket for ECHOMAP UHD2 72sv |
| | Mounting bracket for ECHOMAP UHD2 92sv |
| | Protective cover for ECHOMAP UHD2 62sv |
| | Protective cover for ECHOMAP UHD2 72sv |
| | Protective cover for ECHOMAP UHD2 92sv |
| | Transom mount ClearVü SideVü GT54UHD-TM transducer (standard equipment on SYGMAP62SV / SYGMAP72SV) |
| | Transom mount ClearVü SideVü GT56UHD-TM transducer (standard equipment on SYGMAP92SV) |
Availability:
Available

Not available

Stock not managed